Getting Ready To Learn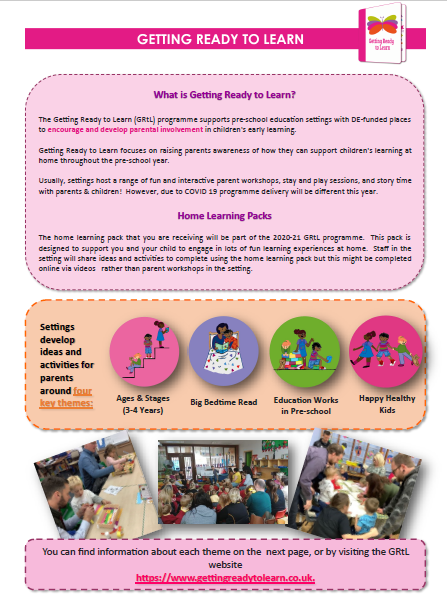 For the last few years, Railway Street Nursery School has participated in the Department of Education programme, "Getting Ready to Learn". Through this programme, parents benefit through having access to a number of parent evening courses based on the pre-school curriculum and on their partnership between home and school.
This year due to Covid-19 restrictions information videos have been produced on each of the 4 themes of the "Getting Ready to Learn" programme:
Happy Healthy Kids
Education works
Big Bedtime Read
Ages and Stages
We enjoyed activities at home as part of our themes. Please enjoy watching some of our themed activities ...'at home!'
Emergency Vehicles
28th Mar 2022
Big Bedtime Read 22 video
20th Feb 2022
Happy Healthy Kids Gross Motor Nov 2021
19th Jan 2022
1st Nov 2022
To end our first half term we held a Happy Healthy Kids Stay and Play Day focusing...
Railway Street Nursery School, Railway Street, Armagh BT61 7HP
Phone: 028 3752 3472